10 Manieren om een oudere te overtuigen zich te wassen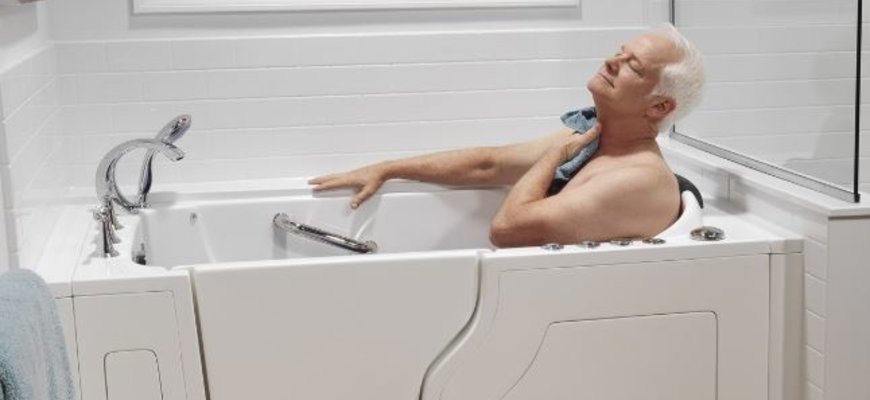 Wanneer je geconfronteerd wordt met een oudere persoon die niet graag een bad of douche neemt, kan het delicaat zijn om hier een gesprek over te voeren. Deze situatie pak je maar beter heel zorgvuldig aan. Het is niet makkelijk om iemands routine te veranderen, maar als u deze stappen volgt zal u erin slagen op een discrete en doeltreffende de persoon aan te moedigen om zich meer te wassen. Probeer te achterhalen wat de redenen zijn van de huidige badgewoontes van de oudere en doe vervolgens suggesties voor een verandering in die routine. Zorg ook dat de badkamer een veilige, makkelijke en comfortabele plaats is voor de badervaring.
10 Manieren om een oudere te overtuigen zich te wassen.
1. Wees je ervan bewust dat slechte hygiëne niet altijd een keuze is. 
Naarmate mensen ouder worden, kan het baden moeilijk worden. Dit kan het gevolg zijn van angst om te vallen, moeite om in of uit het bad of de douche te komen, moeite om zich te wassen, of zelfs een gevolg van een cognitieve stoornis, zoals Alzheimer of dementie. Als je een ouder familielid of vriend begint te benaderen over hun hygiëne, houd dan al deze dingen in gedachten en probeer zo respectvol en tactvol mogelijk te zijn.
2. Krijg een idee van de algemene verzorgingsgewoonten van de persoon.
Zet de oudere niet onder druk en gebruik dus een indirecte manier van benaderen. Het is belangrijk dat de oudere zich op zijn/haar gemak voelt vooraleer u een suggestie maakt over het veranderen van zijn/haar routine. Een voorbeeld van een indirecte aanpak is bijvoorbeeld eerst vragen of de oudere genoeg verzorgingsmiddelen heeft. " Heb je genoeg zeep voor je douches en baden deze week?" Vraag daarna pas hoeveel baden de persoon gemiddeld neemt. Breng dus eerst het onderwerp op een indirecte manier aan vooraleer je dieper op het onderwerp ingaat. 
3. Suggereer een verandering in de routine.
Als u erachter komt dat ze minder dan twee keer per week in bad gaan, verander dan de toon van uw stem van informeel naar bezorgd. Benader de kwestie vanuit een medisch, in plaats van een persoonlijk, standpunt en benadruk het belang van hygiëne voor de gezondheid. Leg uit dat artsen aanraden om minstens twee keer per week te baden om een infectie te voorkomen. Probeer iets als: "Je weet dat ik van mijn arts heb gehoord dat niet alleen iedereen elke week moet baden, maar dat ze minstens twee keer per week moeten baden voor een betere gezondheid. Ik denk dat we dit moeten proberen."
4. Vermijd problemen met de geur.
Het uitspreken van lichaamsgeur zou hen kunnen teleurstellen of boos maken, waardoor het moeilijker wordt om hen te overtuigen om hun routine te veranderen. Omdat senioren een verminderde reukzin kunnen hebben, zijn ze zich er misschien niet van bewust dat er een geurprobleem is. Door hen hierop te wijzen, kan het tot angst leiden als ze de geur niet kunnen detecteren en gaan ze zich ongemakkelijk voelen.
5. Vraag de persoon naar zijn of haar zorgen en behoeften met betrekking tot het baden.
Afhankelijk van hun fysieke conditie kan het baden of douchen een bron van angst zijn, het in en uit bad gaan, het wassen, het afdrogen en het aankleden kan meer energie vergen dan ze hebben. Ze kunnen bang zijn om in het bad te vallen of een slechte ervaring hebben met verbranding of ijskoud water. Neem nota van deze overwegingen bij het regelen van hulp bij het wassen en het verbeteren van de veiligheid in de badkamer.
Om te proberen te begrijpen welke angsten ze kunnen hebben, stel je vragen als: "Ben je gekwetst tijdens het gebruik van het bad, door het vallen of door de temperatuur van het water" of "Voel je je echt moe na het wassen?". Als vermoeidheid of angst om te vallen problemen lijken te zijn, overweeg dan sterk om de persoon zelf te baden of een verzorger in te huren.
6. Geef ze een stimulans om zich te wassen.
Als de oudere zich niet vaak genoeg heeft gewassen, voelen ze dat waarschijnlijk niet nodig omdat ze niet regelmatig naar buiten gaan of mensen zien. U kunt ze een extra stimulans geven om te baden door ze aan te moedigen plannen te maken. Ga verder dan het voorstellen van dingen die je moet doen en zet specifieke plannen met hen op een kalender. Uitstapjes en activiteiten die gemakkelijk te regelen zijn, zijn onder andere lunchen met vrienden of familie, naar de film gaan of een muzikaal optreden, of een uitstapje naar het park.
7. Stel suggestieve vragen om een wastijd te regelen.
In plaats van te vragen of ze wel of niet willen baden, stel je vragen op een manier die veronderstelt dat ze dat willen. Vermijd ja of nee vragen, zoals "Wil je in bad?". Dit gaat voorbij aan de veronderstelling dat er meer baden moet worden gedaan. U kunt bijvoorbeeld vragen: "Wanneer moet ik terugkomen om u te helpen met uw bad?" of "Welk moment van de dag past het beste bij u om te douchen?".
8. Stel een regelmatig wasschema op.
Of het nu u, een echtgenoot of een verzorger is die zal helpen, het plaatsen van wastijden op de kalender zal de geliefde helpen om zijn of haar geheugen te verbeteren en een beter gevoel van de activiteiten van de week te krijgen. Wanneer u of de verzorger aankomt, is het 'badtijd', een gebeurtenis zoals verwacht en routine zoals etenstijd of bedtijd.
9. Raadpleeg een dokter als je weerstand tegenkomt.
Het is mogelijk dat uw geliefde weigert te baden, ondanks herhaalde pogingen van uw kant om de voordelen uit te leggen en hulp aan te bieden. Raadpleeg in dat geval een huisarts en vraag naar medicijnen die bedoeld zijn om de weerstand tegen de zorg te verlichten.
10. Zorg voor een veilige badkamer.
Installeer indien nodig grijppalen. Deze kunnen zeer geruststellend zijn en nuttig voor een persoon die al gevallen is of bang is om in de badkuip te vallen. Installeer een badstoel/douchestoel als de persoon niet in het bad kan zitten. Deze zijn vooral nuttig als er al een val is geweest, of als er vrees is voor een val vanwege broosheid of vermoeidheid. Voeg een anti-slipmat toe of breng anti-slip tape aan op de bodem van het bad. Veel badkuipen hebben misschien al deze tape met schuurpapierstructuur op de bodem van het bad aangebracht, maar het zou kunnen helpen om meer in het middengebied toe te voegen, waar het grootste deel van de staande tijd wordt gedaan tijdens het douchen. Er zijn nog veel meer bad en douche hulpmiddelen beschikbaar.