Dynamisch druk verdelen

Bij het voorkomen en behandelen van decubitus is het belang van lucht vandaag onbetwistbaar.
TZW biedt een totale oplossing aan om met aangepaste producten bij elke (risico)patiënt de druk passief, reactief (Repose®) of dynamisch te verdelen. 
De Novacare wisseldruk- en low air loss-systemen zijn synoniem met hoogwaardige technologie, kwaliteit en gebruiksgemak.
Elke patiënt kan de best mogelijke preventie en behandeling genieten, zij het thuis of in een zorginstelling. TZW staat in voor het leveren van de hulpmiddelen en ontwikkelt opleidingen en communicatiemateriaal die aan de noden en behoeften van elke instelling beantwoorden. Dienst na verkoop wordt eveneens aangeboden. Aarzel niet om al uw vragen met de TZW-verkoopmedewerkers te bespreken.

Lucht is een essentieel gegeven in decubitusbeleid
Een dynamische oplossing voor elke patiënt
Dynamisch druk verdelen met wisseldruksystemen novacare ASX (opleg)matras en zitkussen...
Typisch voor elk novacare ASX hulpmiddel is het gebruiksgemak. Belangrijke kenmerken zijn de technische details (waaronder onknikbare slangen, metalen compressor, visueel en akoestisch alarm, CPR-ventiel) naast robuustheid en kwaliteit van het gamma.

De bi-elastische hoes in polyurethaan coated polyester beschikt over een antislip oppervlak en een rits rond het oppervlak. De cycli alterneren om de 10 min. en het systeem kan ook statisch worden ingesteld.

Het basismodel, de novacare ASX, is ontworpen voor een patiënt tot 140 kg en wordt gebruikt als oplegmatras of matrasvervanger. Dit systeem bestaat uit 18 PU-gecoate nyloncellen. De drie statische hoofdcellen bieden de patiënt het vereiste comfort.
Een basismatras (3,5 cm) past gemakkelijk in het daarvoor voorziene vak onderaan. Een omkeerbare tas wordt optioneel meegeleverd.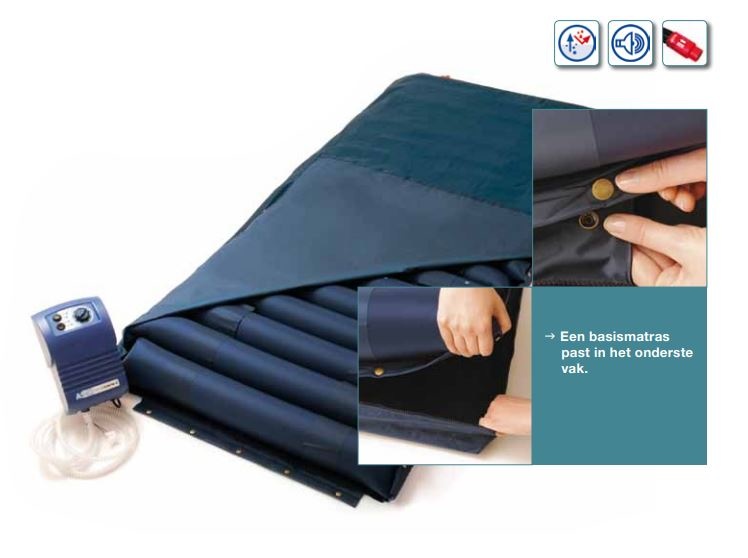 ... en novacare ASX digital matras
Het novacare ASX zitkussen is op bestelling beschikbaar. Het is ontworpen voor patiënten tot 120 kg en telt 7 PU-cellen. Een ­elatex® mousse onder het oppervlak zorgt voor extra zitcomfort. Het onderste oppervlak beschikt over antislip-eigenschappen en het kussen wordt met 2 bevestigingslinten aan de stoel vastgemaakt.
De ASX digital kan worden gebruikt voor patiënten die tussen 20 en 185 kg wegen. De 18 dubbellagige luchtcellen van dit model zijn minstens 15 cm hoog (dus minstens 2 cm hoger dan de ASX cellen); 8 hiervan zijn ventilerend. De controle-eenheid beschikt over een ingebouwde druksensor