Hoe moet ik een tillift kiezen en op wat moet ik letten?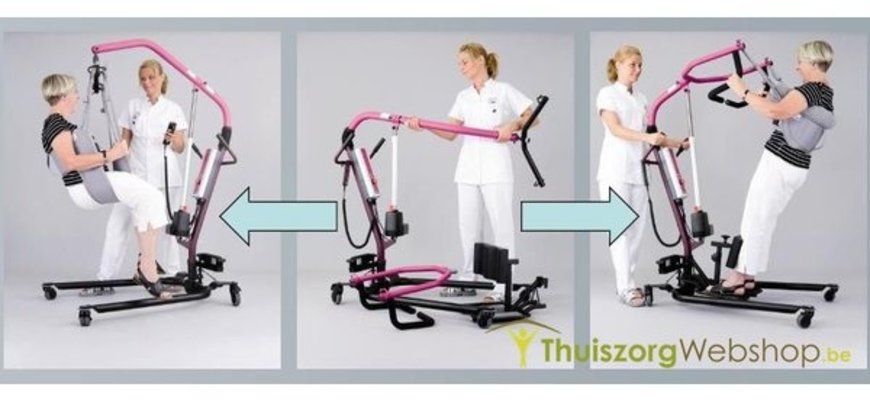 Een tillift is ontworpen om mensen op te heffen die op eigen kracht niet of moeilijk kunnen staan. Tilliften kunnen patiënten op een comfortabele manier helpen om zich te verplaatsen en bepaalde activiteiten in huis uit te voeren.
Hoe moet ik een tillift kiezen en op wat moet ik letten?
Welke verschillende types tilliften bestaan er?
Er bestaan zowel actieve als passieve tilliften die allemaal verschillende kenmerken en ontwerpen hebben. Bepaal eerst wat het doel is van de tillift. Waarvoor zal je hem gebruiken en welke transfers zal je ermee uitvoeren? Eens je dit bepaalt hebt wordt het al makkelijker om bepaalde kenmerken te kiezen waaraan de tillift moet voldoen. Let ook op zaken als het maximum gewicht, de wendbaarheid van de lift, de hoogte, het bereik, de wielen enzovoort.
Een passieve tillift is een tillift die het volledige lichaamsgewicht van de gebruiker draagt. De persoon in kwestie hoeft zelf niets te doen en wordt gedragen en verplaatst door de tillift. De meeste tilliften zijn ontworpen om opgevouwen te worden. Zo zijn ze compact en kunnen ze makkelijk vervoerd worden.
Een actieve tillift is een lift die een minder mobiele persoon snel van een zitpositie naar een volgende zitpositie brengt. Dit hulpmiddel vereist wel dat de patiënt mits de ondersteuning van de lift kan staan. Deze liften worden vaak gebruikt voor de overdracht van een persoon van een rolstoel naar het toilet of naar bed. Deze liften zijn heel efficiënt en snel, maar rekenen dus ook op de benen van de patiënt.  
Sommige tilliften zijn een combinatie van beide. Met deze liften kan je dus een actieve of passieve transfer uitvoeren. Dit is heel erg handig voor mensen die voor een korte tijd op eigen kracht kunnen rekenen en zo een actieve transfer kunnen uitvoeren, maar de passieve tillift nodig hebben voor langere transfers. Deze liften zijn ook ideaal voor in woon-zorg centra om verschillende mensen mee te helpen.
Het is dus van essentieel belang dat je de juiste keuze maakt en daarvoor moet je vooral overwegen waar en waarvoor u de lift zal gebruiken en hoe mobiel u zelf bent. Op die manier neemt u zeker de juiste keuze en kan u in het vervolg genieten van veilige en comfortabele transfers.