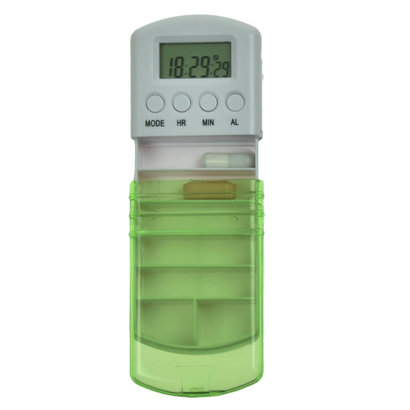 Medication alarm with 7 alarms vibration and sound
GH700|GHP
Delivery time:

2-3 delivery days
+ PillTime medicine box with 7 alarms and 7 pill boxes specially developed for Parkinson with loud sound and / or vibrating signal. Disconnect the pill compartments from the alarm. > ...
More information
Free shipment
and return as from €40

In Belgium and all neighboring countries

Correct prices
Product description
Article number:

GH700|GHP

Delivery time:

2-3 delivery days
PillTime Medication alarm with 7 alarms.
This PillTime medicine alarm with 7 alarms and 7 compartments has been specially developed for people with Parkinson's disease by operating the boxes. The lids are easy to slide with one hand. It is also suitable for everyone who wants a nice and easy compact pillbox.
The medicine box is equipped with a loud sound alarm and / or a vibrating signal. The alarms you want are retained in the memory, so they only need to be set once.
The pillbox can be disconnected from the alarm. The alarm has a compact size of 12.5 by 5 by 2 cm so that the medicine box easily fits into the pocket or handbag.