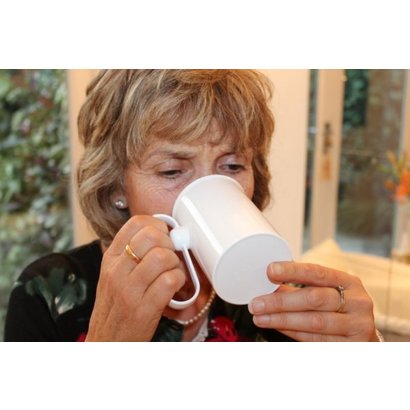 Handsteady drinking cup
AD158537|64
Availability:

Soon back in stock

Delivery time:

3-10 days
Free shipment
and return as from €40

In Belgium and all neighboring countries

Correct prices
Product description
Article number:

AD158537|64

Availability:

Soon back in stock

Delivery time:

3-10 days
How it works
handSteady looks like a 'normal' fine bone china cup but is lightweight and has a unique Rotatable Handle™ for up to four fingers and comes with a Hidden Lid™ with a drink and straw hole. It's dishasher and microwave safe.
Here's how it works:
Stays upright
You can hold the Rotatable Handle™ at any comfortable angle, and gravity will keep the cup upright and steady.
This is helpful if you have limited dexterity or weakness in your wrist, as it enables you to avoid spills and drink without bending your wrist.
Tilts by pivoting
You can tilt handSteady by holding it by the handle close to your mouth, then pivoting it with your mouth, thumb, or other hand.
You get more control over the liquid flow because one hands takes the weight of the cup and drink through the handle whilst you control the tilt of the cup with your other hand, thumb or mouth controls the liquid flow.
Keeps drinks hot and in your cup
handSteady cups with a Hidden Lid™ accessory. It is discrete (you can hardly see the lid), keeps drinks hotter for longer and reduces liquid flow and spills.
The lid is easy to insert and remove from the cup has a drink hole that you can also use with a straw to extend its use.
Increases your dexterity
The Rotatable Handle™ removes the need to bend your wristor raise your arm. Simply fix your wrist and the lift the cup by bending your elbow. Ideal if you have wrist pain or weakness.
You can also get more comfort for your fingers, wrists, arms and shoulders because the cup is lightweight (109g / 3.8oz) and the large sized handle spreads the weight across your whole hand.
Improves your stability
If you have tremor, the Rotatable Handle™ can be held at 90 degrees with your palm facing up or down. In this position your forearm can't twist any further, so tremor can be less for many people.
The Rotatable Handle™ frees you to keep your elbows anchored into your side or on a surface throughout the drinking process for additional stability. .
Gravity can self-stabilise the cup if you align the Rotatable Handle™ with forearm tremor.
If you hold handSteady with two hands, the impact of tremor is reduced on the cup from the hand holding the Rotatable Handle™, which gives you more control over the cup.
Many people with reduced balance and tremor hold the Rotatable Handle™ upside down to lower the centre of gravity and increase stability.
If you do have reduced balance or dyskinesia, you can allow the cup to swing freely and let centrifugal force to you keep your drink in the cup.
Other ways you can use handSteady
Reach for it without twisting your body when the cup is on a side table by grasping the Rotatable Handle™ in a back handed position and returning your hand to an upright position as you bring the cup to your mouth.
Use in bed with or without a straw and without needing to sit up as far. This is because the Rotatable Handle enables you to bring the cup right to your mouth.
As a feeder cup. The carer holds the cup close to your mouth and you or they control the tilt and liquid flow with partial independence and more comfort.
Reduce the amount need to tilt head back to drink by pushing out your lips, and tilting by pivoting the cup; or, or by tilting the cup with the handle fixed at 45 degrees.
Hold the Rotatable Handle™ at 90 degrees whilst holding a walking aid, and gravity will keep the cup upright.
Use everywhere... in the living room, restaurant or cafe with friends and family... when on the move in a car, boat, plane or train to avoid spills... for taking pills and even as a milk jug.
Recommended by health professionals
Medical doctors, occupational therapists, physio therapists, nurses and patient groups around the world are recommending their patients and clients to their patients.
Steve Ford, CEO of Parkinson's UK said, "We are pleased to be working with Chris on this new invention that can make easily enjoying a cup of tea a reality once again for people living with Parkinson's."
Professor Lesley Findley, Consultant Neurologist and Chairman of the National Tremor Foundation said, "This will be incredibly useful for act of drinking, which is an essential and important social activity."
Dr Michael Wright, Guys and St Thomas' Charity said, "We are delighted to have supported the development of handSteady, which is such a simple idea that promises to radically improve quality of life for people living with health conditions."
Helen David, Physiotherapist, said, "I definitely would recommend patients use it. I think it's brilliant."
Guy Smallman, Director of the Health Design and Technology Institute at Coventry University said, "... participants found handSteady helpful and said they would continue to use it because it helps them to drink easily."
Our network of resellers include major distributors of mobility products such as NRS Healthcare, Patterson Medical, Able2, RNIB, Age UK, Independence Australia, Identities, Neilsen Borgen.
What the media is saying
Reader's Digest Canada said, "Leave it to a Brit to make sure everyone can have a cuppa."
BBC News said, "handSteady could have the answer"
The Guardian said, "A helping handle: making drinking easier for people with tremor"
NBC News said, "Excellent idea"
The Huffintgon Post said, "One of the most useful aids I've come across so far."
handSteady has also been featured by Channel 5 France, CNET, Forbes and Discovery News; and has also won awards from Sir James Dyson, Lord Snowdon (married to Queen Elizabeth II's late sister), Kenny Yip, Help the Aged and the Guardian start-up of 2013 award.